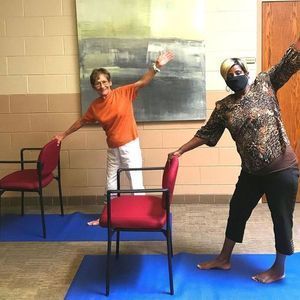 Chair Yoga 
Doing yoga generally means shifting smoothly from one pose to another. Moving from one pose to another improves your ability to accurately sense your body in space, improving your coordination and reducing your risk of falling.
Chair Yoga is a type of yoga that has been modified to allow participants to perform all the required exercises from a seated position or standing with the assistance of a chair. It will enable seniors and those living with disabilities to reap the benefits of yoga without risking their safety.

Yoga inherently enhances balance, flexibility, mobility, and strength, key components of fall prevention. Also, it reduces stress, improves sleep, and alleviates pain.
To safely perform chair yoga, the chairs must not have arms and must be placed on yoga mats.
We provide mats for 10-12participants.
Sixty & Better facilitators are ready to begin teaching! To schedule Bingocize in a church, senior living facility, or other community organization, contact Tiffany Lankford by email or calling 817-413-4949, ext. 226.
Go to the calendar to find out when the next class is starting.