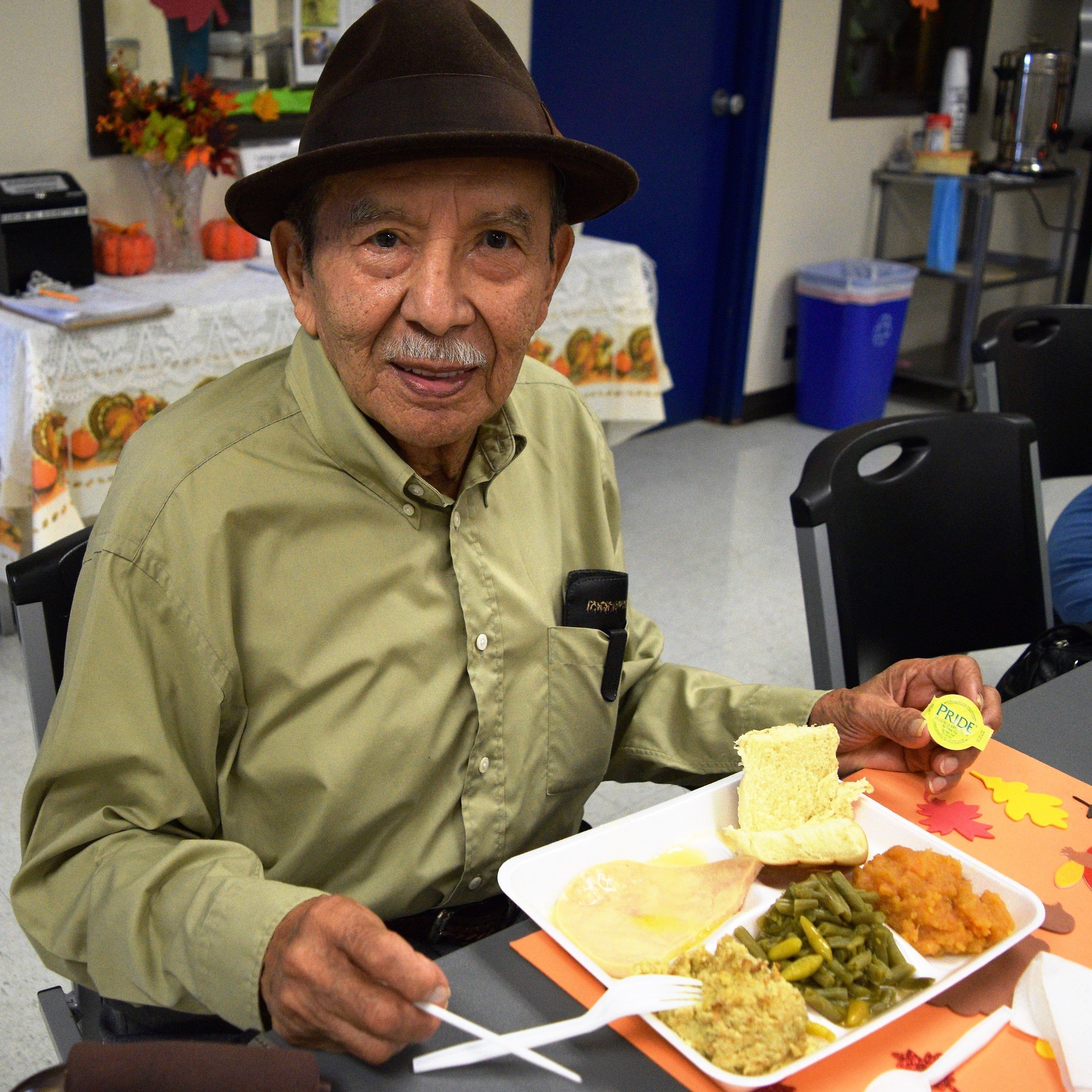 October 1, 2020
FORT WORTH — Two Tarrant County nonprofits today announced changes to long-running programs benefiting older adults. Sixty and Better, Inc. will cease its congregate meal program for older adults on September 30, 2020. With no end of social distancing or group-restriction orders in sight, Sixty and Better has made the difficult decision to discontinue the program, which provides those age 60+ with a place to socialize and enjoy a nutritious meal in a group setting. Meals On Wheels, Inc. of Tarrant County stands ready to fill the service gap created by this change, and will begin providing services to area seniors previously served by Sixty and Better effective October 1, 2020. Funding for the congregate meal program is provided by the Area Agency on Aging of Tarrant County, United Way of Tarrant County, and community donations.
"Since our founding in 1967, Sixty and Better has provided programming and services that empower older adults to live with purpose, independence, and dignity," said Sixty and Better Interim Executive Director Jerome H. Mosman. "We cherish the five decades of serving older adults through our congregate meal program in activity centers across Tarrant County, working alongside county, city, and community leaders and volunteers, enabling participants to age in place and thrive."
Formerly Senior Citizens Services of Greater Tarrant County, Sixty and Better was forced to discontinue its congregate meal program in March with the onset of the COVID-19 outbreak, as senior activity centers and other meal sites closed their doors to protect high-risk participants. During this time, Sixty and Better has continued to serve participants with bi-weekly home deliveries of frozen and shelf-stable meals to ensure their clients' nutritional health. With the centers closed, Sixty and Better also maintained vital connections with participants through weekly check-in calls, and distributing engagement activities such as activity books, useful household and toiletry items, and protective face masks. Approximately 1,000 participants of the Sixty and Better congregate meal program will be notified of changes this week.
"We are ready to welcome these folks into the Meals On Wheels family," said Carla Jutson, President and CEO of Meals On Wheels, Inc. of Tarrant County. "While COVID-19 remains a threat, we will serve these new clients through our Supplemental Nutrition Program. We have a long history of fighting senior hunger in Tarrant County, so I'm confident that those who have long relied on Sixty and Better for a nutritious meal will look forward to the delicious and nutritious meals we provide.
"It saddens me that COVID-19 has had such a negative impact on our local economy and way of life," Jutson continued. "I have the highest respect for Sixty and Better and the caring people who work there, and I look forward to seeing how they are going to serve seniors in the future."
In FY 2019, Sixty and Better served 202,286 meals at 23 activity center sites in Tarrant County, with an average of 870 meals served daily. Over the past year, Sixty and Better has undergone a series of long-term strategic planning, and now looks to further expand its programming into broader areas of healthy aging. In October, the organization will expand a new wellness program called Walk With Ease, which combines self-paced walks with information about health-related topics. Offered at no cost to the participant, the program is administered virtually over the web or over the telephone rather than in-person, and anyone 60+ can participate.
"At Sixty and Better, we view healthy aging as a balance between the many dimensions of one's well-being," said Mosman. "Some have lost connections to others while staying home during this pandemic, and we know that an active, connected lifestyle can lessen some of the health challenges many face. We are thrilled to offer Walk With Ease to older adults looking to connect with new people and to improve their balance and strength. The program allows participants to work on their own, and at their own pace, to increase their physical activity and well-being."
In addition, Sixty and Better offers the Aging Mastery Program®, a fun and engaging course that covers 10 healthy aging topics. When they graduate from the program, participants have set goals for positive actions in many aspects of their lives such as exercise, nutrition, finances, advance care planning, community engagement, and healthy relationships. Anyone 60+ can participate in this program, offered virtually over the web or over the telephone rather than in-person, at no cost.
Sixty and Better continues to offer its popular Chronic Disease Self Management and Diabetes Self Management programs for people with chronic health conditions. Developed by Stanford University, the workshops are designed to help people gain self-confidence in their ability to control their symptoms and learn how their health problems affect their lives. Classes teach skills useful for managing a variety of chronic diseases. Those 60+ can participate in the program at no cost, which is offered virtually over the web or over the phone.
Meals On Wheels of Tarrant County currently offers two nutrition programs—the Home-Delivered Meals Program and the Supplemental Nutrition Program.
Home-delivered meals are available to those who are homebound, physically or mentally unable to prepare meals for themselves, and have no one living in their home who can assist them on a regular basis. There are no age or income restrictions. Program participants currently receive two meals per day, Monday through Friday, delivered around lunchtime to their front door by caring volunteers who also provide a safety check. The hot, noontime meal includes an entrée, two vegetables, bread, dessert, and the client's beverage of choice. The second meal is a refrigerated breakfast meal that is intended to be eaten the following morning. Weekend meals are available to those at highest nutritional risk.
Supplemental food is available to individuals age 60+ who do not have enough food to eat or who are experiencing a reduced level of nutritional support from families and friends during the current public health crisis. This program is intended for those who can cook for themselves, but are adhering to stay-at-home recommendations or do not have access to food during this current health crisis. Program participants will receive a weekly home delivery of five frozen meals from Meals On Wheels of Tarrant County and fresh produce, as available, from Tarrant Area Food Bank.
"When we finally get the upper hand on COVID-19, we anticipate our mobile Tarrant County seniors will be able to once again meet their friends for lunch in group settings," Jutson concluded. "I don't know what that will look like at this point, but I know how important social interaction is to our senior population. When that time comes, Meals On Wheels will provide nutritious food to congregate meal sites throughout Tarrant County. Our clients will be able to choose which of our programs best suits their lifestyle and nutritional needs. All of us at Meals On Wheels of Tarrant County are working hard to make Tarrant County a caring place to grow old."
# # #
About Sixty and Better: For more than five decades, Sixty and Better has provided a pace for older adults to have fun, be well, and stay connected. Formerly Senior Citizen Services of Greater Tarrant County, Sixty and Better is a 501(c)(3) nonprofit charitable organization that offers a range of programs and services that enable the young at heart to live life to the fullest. Participants report significant increases in activity levels, healthy habits, and social connections with others. Last year alone, Sixty and Better served over 3,000 participants, with 86% reporting improved health in an annual survey. Founded in 1967 with a vision of ending senior isolation, the mission of Sixty and Better remains: Empower older adults to live with purpose, independence, and dignity. Learn more at www.sixtyandbetter.org or call (817) 413-4949.
About Meals On Wheels of Tarrant County: Meals On Wheels, Inc. of Tarrant County is a 501(c)(3) not-for-profit charitable organization that has provided home-delivered meals, professional case management, and other needed items or services to homebound, elderly and disabled residents throughout Tarrant County since it was established in 1973. Its mission is to promote the dignity and independence of older adults, persons with disabilities, and other homebound persons by delivering nutritious meals and providing or coordinating needed services. Meals On Wheels of Tarrant County delivers approximately 1.4 million meals per year. On average, it serves over 3,000 clients per day and delivers approximately 5,600 meals each weekday. Visit mealsonwheels.org.